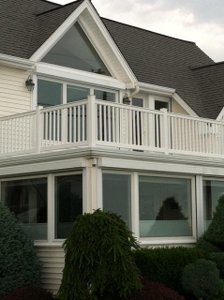 Storm shutters and hurricane shutters for coastal homes
Storm Solutions® is a Connecticut-based Corporation providing innovative and aesthetically appealing storm and wind mitigation solutions to the commercial and residential markets of the east coast. Increasingly stringent building code and insurance regulations in the eastern United States are generating significant demand for such protection.
Storm Solutions® provides a range of products designed to meet the most demanding specifications, including the highest-rated flexible and rigid screens and shutters in the industry. The fastening systems have been re-engineered by Storm Solutions® to provide aesthetically appealing options for coastal architecture and salt-air conditions. Our line of advanced hurricane, storm, and wind mitigation products are engineered to protect homes and businesses, including those valuables contained within them.